Welcome from Head of Sixth Form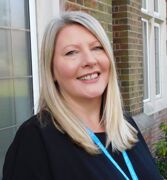 At Westcliff High School for Girls we offer one of the largest academic Sixth Forms in the area, providing an exciting two years full of opportunity for our students. Our values of Scholarship, Kindness, Leadership and Enrichment underpin all that we do. With us you can study a large range of A Levels while developing important wider skills through active participation within our school community.
Our Sixth Form offers a centre of academic excellence, offering a choice of 24 A Levels alongside the Level 3 Extended Project Qualification, helping you develop your knowledge, confidence and skills, in order for you to fulfil your potential and open doors to new opportunities.
A sense of community is important to us and the atmosphere in the Sixth Form is warm and supportive. Staff/student relations are excellent; respect and effort on both sides acknowledges the fact that education is a joint venture. During your time in the Sixth Form you will be supported by specialist subject teachers and a dedicated Sixth Form Pastoral Support Team. We have created a structured environment which, by gradually increasing your autonomy, will help you move from the discipline of compulsory schooling to the freedom of adult independence.
Students and staff are proud of our vibrant and diverse community. Our students come from a rich variety of backgrounds and schools, but all share a common desire to learn and get involved, making our Sixth Form a stimulating and inclusive place to be.
I am delighted that you are considering WHSG for the next step of your academic journey and look forward to welcoming you to our Sixth Form.
Nadine Thompson
Assistant Headteacher – Head of Sixth Form